Salut Sarah,
Je me présente. Je m'appelle Céline et j'habite à Cannes dans le sud de la France. Mon anniversaire, c'est le trente avril et j'ai dix-sept ans. Je ressemble à ma mère parce que j'ai les cheveux blonds et les yeux verts, par contre, j'ai un bon sens de l'humour comme mon père. À mon avis, je suis sympa et bavarde, mais je peux être timide.
Dans ma famille, il y a six personnes : mon père, ma mère, mes deux frères, ma sœur et moi. Je m'entends bien avec ma sœur et je passe beaucoup de temps avec elle. Nous nous intéressons à la musique et nous chantons et dansons dans ma chambre. En revanche, je me dispute toujours avec mon petit frère qui s'appelle Frédéric. Il m'embête et je le trouve égoïste parce qu'il aime être le centre d'attraction. Nous ne nous entendons pas bien.
Ma meilleure amie s'appelle Marie. Elle est très gentille et généreuse. On aime les mêmes choses donc on s'entend vraiment bien. Nous passons beaucoup de temps ensemble et aimons aller au cinéma ou faire les magasins le week-end. C'est super d'avoir une si bonne copine !
Le week-end dernier, c'était l'anniversaire de mon père et nous sommes allés au restaurant pour dîner avec toute la famille. J'ai fait un gâteau au chocolat pour lui parce que c'est son gâteau préféré. Nous avons beaucoup mangé et mon père a bu beaucoup de vin rouge. Après avoir mangé, nous sommes rentrés à la maison. C'était très amusant.
L'année prochaine, j'irai à l'université pour étudier les maths. Quand j'aurai ma licence, je chercherai un emploi et j'espère trouver mon copain idéal. À l'avenir, je voudrais me marier et avoir des enfants.
Et toi ? As-tu beaucoup d'amis ? Tu t'entends bien avec ta famille ? Qu'est-ce que tu vas faire plus tard dans la vie ?
À bientôt,
Céline
Translation
Hi Sarah,
Let me introduce myself. I am called Céline and I live in Cannes in the south of France. My birthday is on the 30th April and I am 17 years old. I look like my mum because I have blonde hair and green eyes however I have a good sense of humour like my dad. In my opinion I am kind and talkative but I can be shy.
In my family there are six people; my dad, my mum, my two brothers, my sister and me. I get on well with my sister and I spend a lot of time with her. We are interested in music and we sing and dance in my bedroom. On the other hand I always argue with my little brother, who is called Frédéric. He annoys me and I find him selfish because he likes to be the centre of attention. We don't get on.
My best friend is called Marie. She's very kind and generous. We like the same things therefore we get on really well. We spend a lot of time together and we like to go the cinema or go shopping at the weekend. It's great to have such a good friend!
Last weekend it was my dad's birthday and we went to the restaurant to have dinner with all the family. I made a chocolate cake for him because chocolate cake is his favourite. We ate lots and my dad drank a lot of red wine. After eating, we went home. It was fun.
Next year I will go to university to study Maths. When I get my degree, I will look for a job and I hope to find my ideal boyfriend. In the future I would like to get married and have children.
And you? Do you have a lot of friends? Do you get on well with your family? What are you going to do later in life?
See you soon,
Céline
Writing about Family in French: Teacher Section
*Teacher: Some students aren't comfortable talking about their families, so I tell them it's ok to make it up! The whole point is to use the vocabulary and to put together sentences.
A. Le Vocabulaire / Vocabulary
Begin by introducing basic vocabulary. I use un/une a lot, and always tell my students to learn words with those, so they'll more easily remember the gender. It's not as important with a word whose gender is obvious, but it's a good practice. (Note: be sure to remind them about le and la becoming l'.)
1. Qui / Who:
*Teacher: You may have to add words to fit different family make-ups. Hint: If "sœur" is difficult for them, remind them to ignore the -o and that leaves them with -eu.
une mère / mother
un père / father
un fils / son
un garçon / boy
un frère / brother
une fille / daughter, girl
un mari / husband
un homme / man
une femme / wife, woman
un grand-père / grandfather
un petit-fils / grandson
une tante / aunt
un oncle / uncle
un cousin / male cousin
une cousine / female cousin
une sœur / sister
un(e) enfant / child
une nièce / niece
un neveu (-x) / nephew
une grand-mère / grandmother
une petite-fille / granddaughter
2. L'État Civil / Marital Status:
*Teacher: Once again, you may have to add words to fit different family make-ups. Remind them of the difference between "mari" and "marié."
célibataire / single
fiancé(e) / engaged
décédé(e) / deceased
veuf / veuve / widower / widow
marié(e) / married
divorcé(e) / divorced
remarié(e) / remarried
3. Les Adjectifs Possessifs / Possessive Adjectives:
Possessive adjectives personalize your writings about your family. You wouldn't want to constantly say, "I have a mother. I have a brother. I have an aunt." You can use the different forms of "my" (mon, ma, mes) to vary your sentences.
4. Les Verbes / Verbs:
You won't need a lot of verbs to talk about your family: Être, avoir and habiter should be enough for most descriptions.
*Teacher: I find examples often work best, but if you'd like you can spend time talking about the basic verbs they'll need--or even ask them what verbs they think they'll need! I have sample sentences for you in section II. Don't forget to talk about "habiter" (live, reside/where) with a city, with states and streets, and how it differs from "vivre" (live/how, when). You may also want to talk about the difference between using "chez" and "avec."
B. Les Phrases / Sentences
*Teacher: Examples tend to work best, so I've included some basic sentences to cover many situations. You can add as many as you'd like, and your students can take notes on their copies. Don't forget to remind your students to also use words like "et" and "mais" to vary the sentences more.
1. Qui / Who (with verbs):
a. J'ai un frère/une sœur. J'ai deux frères./deux sœurs.
b. J'ai un petit frère/une petite sœur. J'ai un grand frère/une grande sœur.
*You can also teach aîné, cadet, etc. It's depends on how much time you have to spend on the family lesson.
c. Je n'ai pas de frère(s)./pas de sœur(s). **Teacher: Remind them that the noun can be singular or plural, but that they'll still use de/d' in the negative in many cases...
d. On n'a pas d'animaux.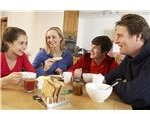 *Teacher: d'/vowel
e. C'est le frère de mon père. Le mari de ma tante (mon oncle) est décédé. (mort(e))
f. Mon oncle s'appelle Marc. Ma tante s'appelle Marie.
g. J'ai un oncle qui s'appelle Marc et il a 50 ans.
h. Mes parents s'appellent Sophie et Pierre. Mes parents sont Sophie et Pierre.
2. L'État Civil / Marital Status:
a. Mon frère est marié. Ma sœur n'est pas mariée.
b. Mes parents sont divorcés. Ma sœur est divorcée.
c. Je ne suis pas marié(e). Je suis célibataire.
d. J'ai un frère/une sœur qui n'est pas marié(e).
3. L'Age / Age:
a. Mon frère a 14 (quatorze) mois. Mon frère a 1 (un) an.
b. Mon frère a 9 (neuf) ans.
c. Mes deux sœurs ont 13 (treize) ans et 14 (quatorze) ans.
4. Où ? / Where?:
a. J'habite à Boston. **Teacher: à + ville
b. Mes parents habitent en Californie. / en Floride. / dans le Vermont. **Teacher: masculine & feminine//au
c. Mon grand-père habite avec un ami. / Mon grand-père habite chez ma tante. / tout(e) seul(e)
d. Mon cousin habite 9 Rue Corbert. Ma tante habite une grande maison/un bel appartement.
e. Mes grands-parents sont en France. / au Méxique.